2009 AMERICAN SURREALBOOK RELEASE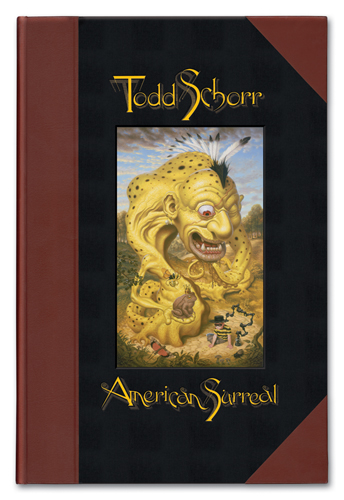 This is the latest collection of paintings by one of contemporary surrealism's most influential artists. American Surreal  picks up where Dreamland, Schorr's previous bestselling collection of mind-bending paintings, left off. The viewer can look forward to countless hours of eye bulging investigative thought while examining the impeccably rendered subject matter that has become the hallmark of Schorr's outrageous vision.
One of the seminal figures in what has come to be known as the Lowbrow or Pop Surrealism art movement, Schorr has continually and systematically set the bar ever higher in his quest to bring classic old master painting technique to his pop-culture-infused subject matter. This latest collection continues that journey culminating with the epic masterpiece Ape Worship, included in this volume. Schorr's paintings are the subject of museum retrospectives in 2009 and 2010, and are highly prized and coveted by collectors the world over.
This is the special, signed and numbered limited edition of 200. Leatherbound hardcover, with bookplate, and two new paintings not in the original edition, with sketches, color studies, and details.